With commercial satellites now in orbit, Astrocast offers a Development Kit which enables customers to connect their IoT devices in the field to our satellite network and to work with the applications and protocols required to communicate with them. But what does an Astronode Devkit include?
Everything You Need To Connect your IoT asset to the Astronode Devkit
The Astronode DevKit is designed to support the development of applications using the Astronode S. It contains everything you need to connect your asset to our network before your data is available via our API and online portal. There are two ways a user can connect IoT assets to our satellite network today:
Through the Satellite Board on the DevKit
By soldering the Astronode S and Antenna into their own device
The Astronode DevKit is made up of two key parts:
This contains an Astronode S with our low-cost, back-mounted patch antenna. This board allows you to directly connect your device over our satellite network. You can test and evaluate the software interface between your own asset and our Astronode architecture.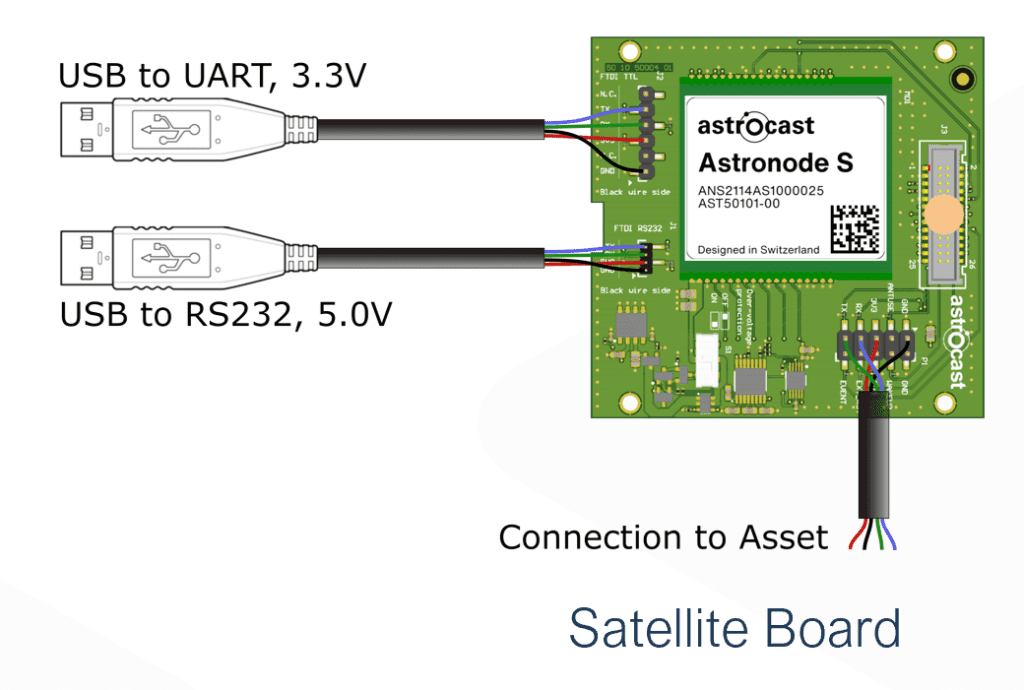 It features three user-accessible connectors:
UART connector: Start working with the Satellite Board next to your computer with the included 1.8m FTDI USB cable.
RS232 connector: Use the Satellite Board outside your office window while being connected to your computer via the included 5m FTDI USB cable.
Asset connector: Connect your device directly to the Satellite Board and experience the same low power consumption that you would get when using the Astronode S in an embedded solder-down configuration.
This has the exact same dimensions, electrical, and software interfaces as the Satellite board. Instead of communicating your data over our satellite network, it sends it over Wi-Fi before your data is then made available via our API/Online portal. This enables you to have access to a low latency development environment; you can seamlessly switch between the two boards.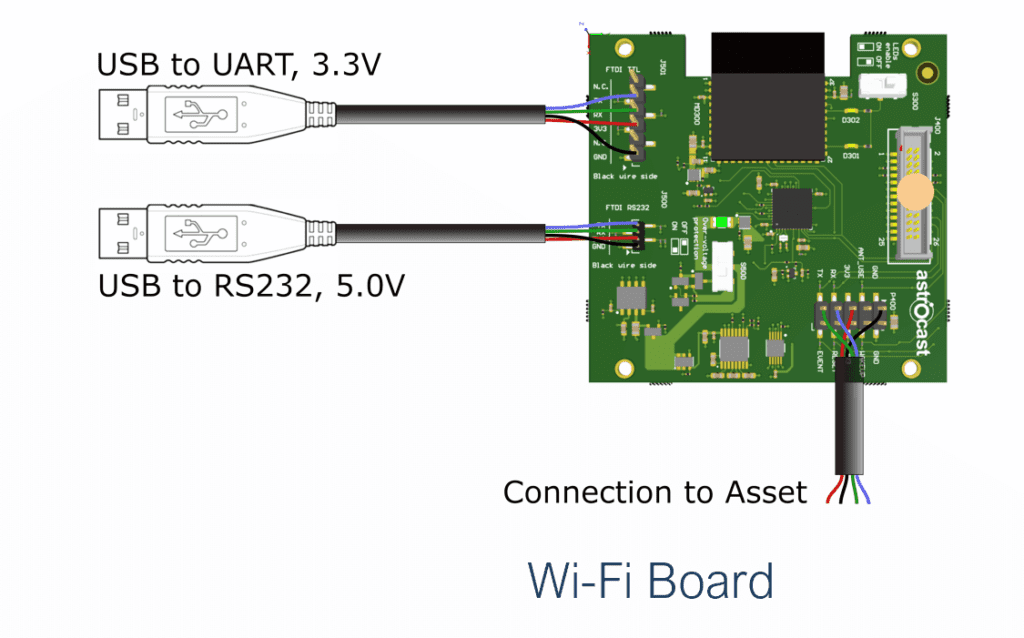 IoT connectivity in four simple steps
Testing your IoT assets has never been that easy. You can set up the DevKit to communicate with Astrocast's Nanosatellite Network in less than 20 minutes.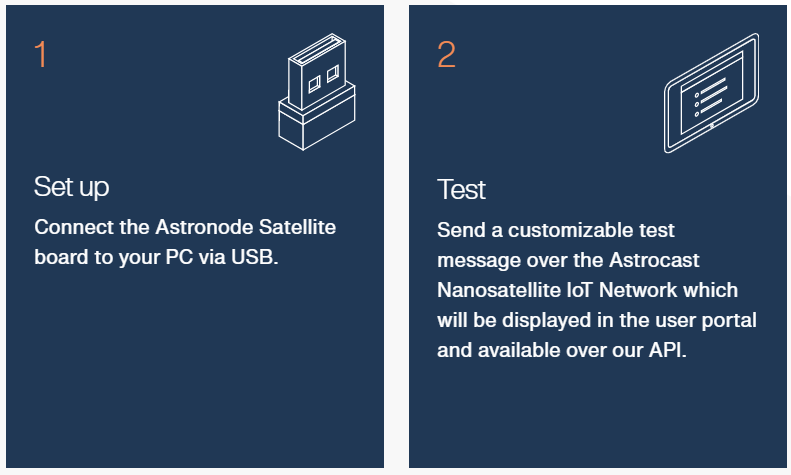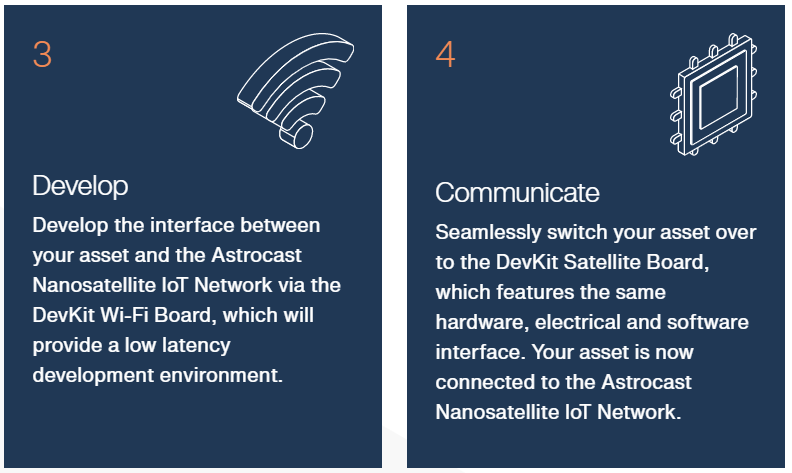 The DevKit also features an IP67 case allowing you to install your device outside on location. The IP67 case features cable glands (with the RS232 cable preinstalled) and is compatible with both boards due to their identical dimensions.
To help accelerate your development, a Windows GUI is provided. This allows you to rapidly send test messages. The Windows GUI is compatible with both the Satellite Board and Wi-Fi Board. Astrocast will also provide a detailed set of code examples to help accelerate your own development.
Taking IoT Assets Further with Astrocast
Earlier this year, we launched the Astropreneur Program. This program enables companies to test and develop applications on the Astrocast SatIoT service. With our service, companies extend their IoT investments. Connecting with the Astrocast nanosatellite network fills the gaps in remote coverage. Today Astropreneurs are developing amazing new applications for IoT from agtech, to maritime, to oil & gas.
Join the Astropreneur Program
Find out more about our Astropreneur Program and how you can fully adapt our flexible integration solution to your needs and unlock the power of your IoT assets.
Upcoming Events
Qatar Economic Forum by Bloomberg 21-23 June, 2021 | Free virtual conference
Join Fabien Jordan, CEO Astrocast, on June 23 at 6pm Qatar time for the roundtable discussion "Space-based Internet: the Future of Global Communication?" at the first Qatar Economic Forum, a free virtual conference powered by Bloomberg which aims to prepare plans for international economic growth in the post pandemic world and to benefit from the strategic location of the State of Qatar. Free sign up on ➡️ www.qatareconomicforum.com
Qatar Economic Forum by Bloomberg
21-23 June, 2021
Free virtual conference
Join Fabien Jordan, CEO Astrocast, on June 23 at 6pm Qatar time for the roundtable discussion "Space-based Internet: the Future of Global Communication?" at the first Qatar Economic Forum, a free virtual conference powered by Bloomberg which aims to prepare plans for international economic growth in the post pandemic world and to benefit from the strategic location of the State of Qatar. Free sign up on ➡️ www.qatareconomicforum.com