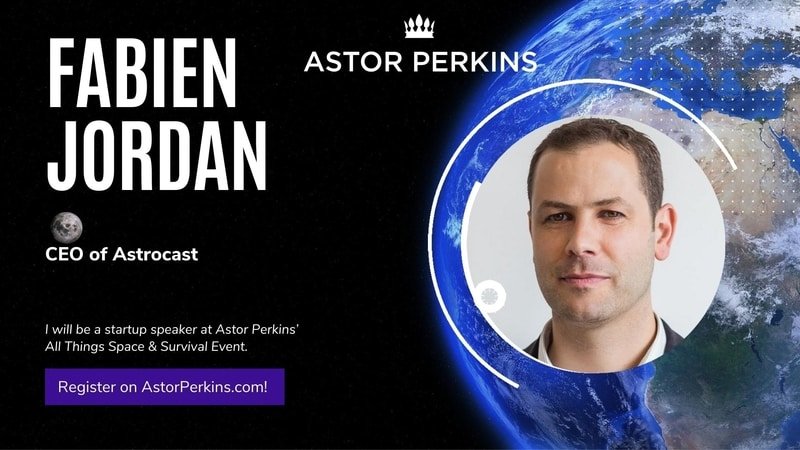 When it comes to investing in our future, VC and Private Equity firm Astor Perkins is in a league of its own.  Focusing exclusively on space and human survival, Astor Perkins has partnered with leaders around the world to build future of cities on Earth and in Space. During their Quarterly Event on April the 9th they will host a series of speakers discussing our future reality from research to robotics to climate change and cybersecurity.
That's why we are excited that our CEO, Fabien Jordan will be speaking on a Space Panel of Growth Stage Startups at 3pm ET. Jordan will be highlighting the opportunities that SatIoT brings to remote regions of the world where connectivity is next to impossible.
Astrocast's mission to connect the world aligns well with the Astor Perkins mission. We track assets, monitor the environment, and save lives by building and operating the most advanced and sustainable IoT network. By connecting the world, we can help leaders like Astor Perkins build for the realities of today and the hopes and aspirations of tomorrow. At Astrocast we believe in a connected world where IoT is global and benefits all.
To join us for this spectacular event discussing the future of humanity on Earth and beyond:
Astor Perkins is focused exclusively on space and human survival. We partner with category tech winners on their mission to build and protect the future cities on Earth and in space. The Astor Perkins quarterly event gathers prominent institutional investors, VCs, family offices and UHNWIs, including 200+ luminary investors, speakers and panelists, 20+ leading startups and 400+ attendees. Our speakers are Nobel laureates, researchers and scientists from Google X, Google Quantum lab, MIT, Stanford, Harvard, and leading national labs, and practitioners forging new possibilities.
Upcoming Events
Qatar Economic Forum by Bloomberg 21-23 June, 2021 | Free virtual conference
Join Fabien Jordan, CEO Astrocast, on June 23 at 6pm Qatar time for the roundtable discussion "Space-based Internet: the Future of Global Communication?" at the first Qatar Economic Forum, a free virtual conference powered by Bloomberg which aims to prepare plans for international economic growth in the post pandemic world and to benefit from the strategic location of the State of Qatar. Free sign up on ➡️ www.qatareconomicforum.com
Qatar Economic Forum by Bloomberg
21-23 June, 2021
Free virtual conference
Join Fabien Jordan, CEO Astrocast, on June 23 at 6pm Qatar time for the roundtable discussion "Space-based Internet: the Future of Global Communication?" at the first Qatar Economic Forum, a free virtual conference powered by Bloomberg which aims to prepare plans for international economic growth in the post pandemic world and to benefit from the strategic location of the State of Qatar. Free sign up on ➡️ www.qatareconomicforum.com