50billion
IoT devices worldwide by 2030
Every time we look, the numbers keep climbing. According to Statista, there will be an estimated 50 billion IoT devices worldwide by 2030. Unfortunately, internet connectivity isn't growing at the same place to offer coverage in remote locations or even backup during natural disasters. Combine this with the complexity of managing a fleet of devices using multiple standards and IoT solutions, and you have a bottleneck in a company's ability to leverage IoT devices to their fullest.
This is why we are happy to announce our partnership with Vertical M2M. Vertical M2M provides a multi-technology IoT Application Enablement Platform, the CommonSense IoT Platform. CommonSense is a complete IoT management platform that consolidates the operation, deployment, management, and maintenance of IoT devices for technical teams through a single dashboard. With Astrocast, the CommonSense platform can keep companies connected with their IoT devices from anywhere in the world without any gaps in connectivity.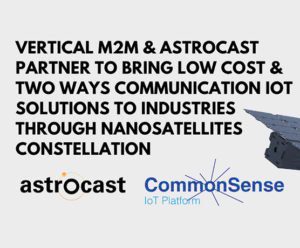 Astrocast and Vertical M2M plan to focus on highly resilient solutions for three key industries where traditional terrestrial connectivity may be out-of-reach :
Pipeline leak detection and prevention.
Remote monitoring of key measurements (pressure, gas presence) for off-shore drilling rigs and security for remote workers.
Remote management of crops.
Livestock health monitoring and management.
Transportation & Logistics:
Supply Chain efficiency and delivery time improvement.
"We are excited to work with IoT pioneers like Vertical M2M and become a part of their ecosystem. Together we will build reliable and affordable solutions for these markets." "The combination of our platforms brings ultimate flexibility, reliability, and coverage to industries that have traditionally struggled to monitor and maintain remote assets."


– said Fabien Jordan, CEO of Astrocast.