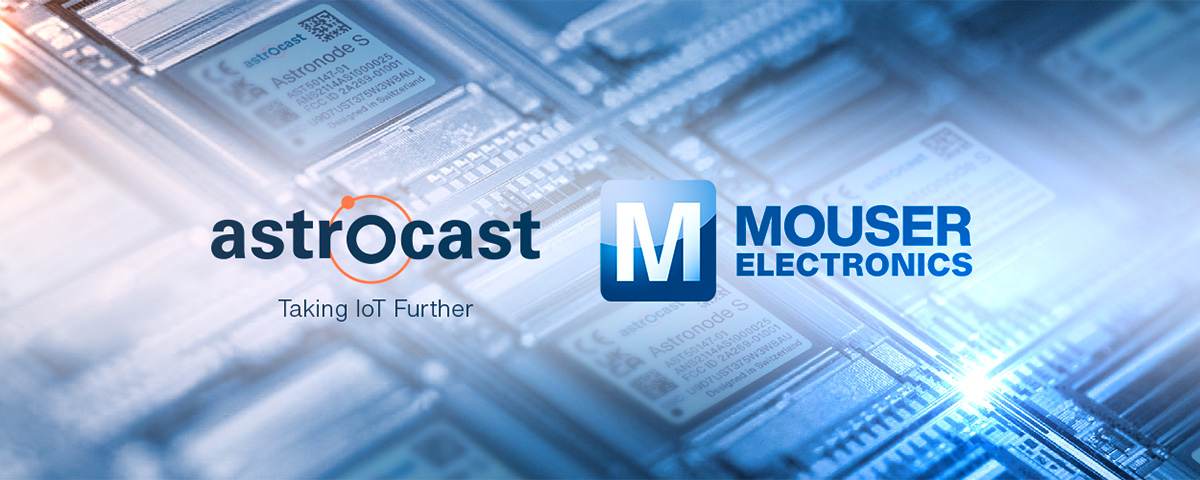 Astrocast's core technology – the Astronode S communication module and its patch antenna, as well as the Astronode S+, a ready-to-install satellite communication device – will be made available to developers and Systems Integrators across the world to access via Mouser's massive e-commerce platform, alongside a full spectrum of electronic components. This development greatly extends Astrocast's reach, enabling customers in Australia, Finland, France, Germany, Italy, New Zealand, Spain, Sweden, Switzerland and the United Kingdom to source everything they need for their IoT projects or prototypes easily, as they strive to take advantage of SatIoT capabilities.

Astrocast joins over 1200 industry-leading brands in Mouser's webshop. As one of the leading global authorised distributors of semiconductors and electronic components, Mouser specialises in rapidly introducing the newest products and technologies to the market for design engineers and buyer communities across the world to take advantage of. Mouser's global distribution centre is highly regarded too – and is part of the reason why Astrocast expressed interest in aligning with Mouser for distribution. Its distribution centre is equipped with state-of-the-art wireless warehouse management systems that enable Mouser to process orders 24/7 and to deliver pick-and-ship operations to its customers.
"This is a fantastic development for Astrocast extending our reach to developers and Systems Integrators through a highly regarded, reputable global distributor. Design engineers, organisations and the developer community can easily access the benefits of low-power, bidirectional SatIoT technology affordably through Mouser's webshop. They can effortlessly integrate our hardware and connectivity into their IoT devices or explore new IoT business cases and prototypes, as they have access to our technology and everything needed to develop an IoT solution. Moreover, access to this technology via Mouser will shorten the time to market for IoT use cases for many organisations looking to reap the benefits of IoT."

said Fabien Jordan, CEO and Co-Founder, Astrocast
Astrocast's technology will be available for purchase and distribution from Mouser on April 2023. Astrocast will continue to handle its high-quantity orders directly via its own direct sales and business development contacts.
Astrocast SA operates a leading global nanosatellite IoT network, offering services in industries such as Agriculture & Livestock, Maritime, Environment & Utilities to name a few. The Astrocast network enables companies to monitor, track, and communicate with remote assets from anywhere in the world. It relies on superior L-band spectrum through a strategic alliance with Thuraya. In partnership with Airbus, CEA/LETI, and ESA, Astrocast developed Astronode S, an ultra-low power and miniaturised module compatible with inexpensive L-band patch antennas. Founded in 2014 by a renowned team of experts, Astrocast develops and tests all its products in-house, from its satellites to the modules. Astrocast is listed on Euronext Growth Oslo. For more information visit www.astrocast.com
Mouser Electronics, a Berkshire Hathaway company, is an authorized semiconductor and electronic component distributor focused on New Product Introductions from its leading manufacturer partners. Serving the global electronic design engineer and buyer community, the global distributor's website, mouser.com, is available in multiple languages and currencies and features more than 6.8 million products from over 1,200 manufacturer brands. Mouser offers 27 support locations worldwide to provide best-in-class customer service in local language, currency, and time zone. The distributor ships to over 650,000 customers in 223 countries/territories from its 1 million-square-foot, state-of-the-art distribution facilities in the Dallas, Texas, metro area. For more information, visit https://www.mouser.com.